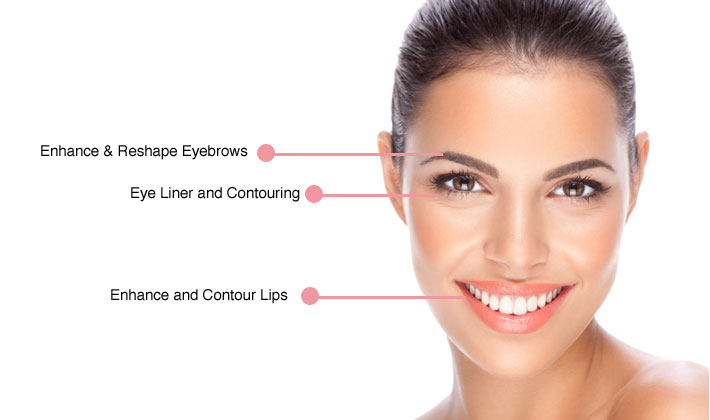 CUSTOMIZABLE
100% FINANCING AVAILABLE
Imagine waking up and getting out of bed looking just as good as you did when you went to sleep! It is possible with permanent makeup. Even though the thought of having tattoos placed on your lips and eyes might be scary, the process is safe and virtually painless, leaving you with more time on your hands than you ever knew what to do with! Whether you use that extra time to sleep longer, exercise, have an extra cup of coffee or anything else is up to you – the key factor is that you have that time because you will not have to fuss with eyeliner, lip liner, lipstick, or makeup to cover up your unsightly scars.
NEVER FORGET YOUR EYEBROWS
Even if you do not purchase any makeup specifically for your eyebrows, chances are you spend time and possibly money on getting them shaped and looking good every morning. If you opt for permanent eyebrows, the worries about how this important feature on your face looks will be a thing of the past because every time you wake up they will look fabulous and you will be ready to hit the road.
NO NEED TO BUY ANOTHER MAKEUP
Wouldn't it be amazing to see how much money you stack up in your wallet just from not buying makeup? Whether you wear drugstore brands or you go high-end and shop at Macy's and Nordstrom, you are probably spending a large portion of your income on beauty products. Permanent makeup can help you save some of that money by giving you a beautiful look without any products. The investment you put into the permanent makeup procedure is quickly recouped when you no longer have to buy expensive makeup products on a regular basis.
SAVE TIME AND MONEY
We all live busy lifestyles and most of us are always trying to save money. One area that you probably never want to sacrifice, however, is your face. Do you ever skip purchasing your favorite lipstick or eyeliner? What about your eyebrows? Do you skimp on the services that help you keep them shapely? Chances are you would rather go without your daily
Starbucks than give up your favorite makeup, but what if you did not have to do that? What if there was a way to save you time and money so that you could not only buy your Starbucks but have time to sit and enjoy it too? The solution is permanent makeup – the service that helps make your lips, eyes, and other facial areas look spectacular without any work on your part.