HAIRLINE SCALP MICROPIGMENTATION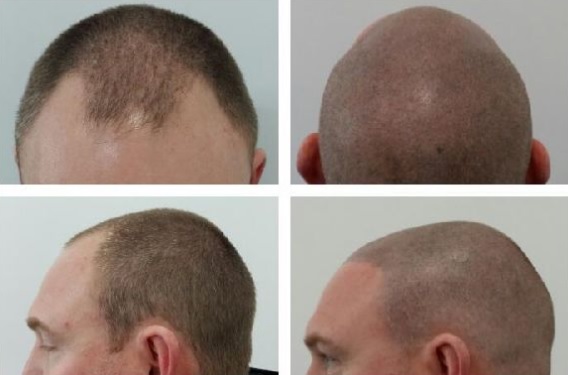 $1000 – $5000
DEPENDING ON THE AMOUNT OF HAIRLOSS
100% FINANCING AVAILABLE
A SOLUTION FOR YOUR RECEDING HAIRLINE
We will work with you to establish a hairline suiting your face shape and age and create a shaved head style, blending the pigment in with your existing hair to create a natural finish. Micropigments are color matched to your existing hair in order to create a natural blend. For each of our treatments, we will always complete the entire scalp area to ensure continuous top-up treatments are not necessary.
Also known as a "medical hair tattoo" Scalp Micropigmentation is now the leading alternative to undergoing the knife when it comes to hair loss solutions. SMP is an incredible treatment, during which, organic, non-toxic pigments are injected into the epidermal layers of the scalp area in order to replicate the natural appearance of hair follicles. This method is regarded as the best treatment of its kind and creates the visual effects of a full head of hair that is safe, affordable, and provides instant results. Each treatment consists of up to three SMP sessions which will create the most natural-looking results, as well as allowing your scalp area time to heal between each session.
With approximately 2000 hair follicles per square inch of your scalp area, the slow process allows for the hair density to be gradually built up over each session, this will result in the most natural look of a thicker and fuller head of hair and allow for subtle rejuvenation and infill of the hairline area. As we recognize that hair does not naturally grow in the same direction, our skilled technicians here at The Scalp Shoppe, are able to examine your existing follicles and ensure that the natural eddies and idiosyncrasies of your hair pattern are replicated using the pigment. In order to color match our pigments to your natural hair, a range of pigment shades is used throughout your treatments. Depending on your current hair loss, there are various options available to achieve your desired look. Please call The Scalp Shoppe in Dallas for a free hairline assessment and hairline restoration cost estimate.
Depending on your current hair loss, there are various options available to achieve your desired look.